While Nature Study isn't exclusive to the Charlotte Mason method of homeschooling, it certainly is a big part of it and something most people associate with that particular method.  
I'm not a full-on Charlotte Mason homeschooler, but I like a lot of the components of that way of homeschooling – including Nature Study.  However, I always tweak everything I do to fit our large family and the individual personalities and preferences therein – including my own!  
So, when I read in The Homegrown Preschooler about the idea of having a Nature Bag by the back door, I knew that was the perfect nature study tweak for me!
Read my post on our Nature Table to see another favorite CM tweak!
Don't have time to read the post?
Listen to the Nature Bag podcast here!
or
Need to see more in-depth what's in the bag?
Watch the Nature Bag video here!
First of all, let me give you a tour of OUR Nature Bag, and then I'll give even more ideas for your own!
Nature Study Tools for the Nature Bag
First, is a waterproof blanket. Mine looks more like this one:

I don't actually keep this IN the Nature Bag, but I keep it nearby so that we can grab it quick and lay it out on the grass rain or shine to be able to observe clouds, take a look at bugs, or just have a picnic in God's sweet outdoors!
I bought jeweler's loupes on the advice of The Homegrown Preschooler as well! They have been a great find! I bought mine from Private Eye, but you can get them through Amazon as well. These make it easy for kids to take an up-close look at all kinds of tiny nature !
I also bought magnifying bug viewers to make it easy for the kids to catch bugs and view them. These round "bug dens" have a grid on the bottom to "measure" your bug and a screw on lid with holes and a magnifying glass. I bought mine in bulk (see above link), but you can also find them in singles from other companies.
I also have a regular magnifying glass and a pair of old binoculars in our Nature Bag.
Nature Bag Books
While our Nature Bag books will most definitely look different from yours, it really ought to carry an array of Field Guides.  Peterson Field Guides or Audubon Society Guides are often a good choice, but there are plenty out there to choose from.
You can put ALL of your field guides in, or just focus on 1-2 and rotate them out.
I also have the 900 page tome Handbook of Nature Study by Anna Comstock.
This is one of those "must-haves" in the Charlotte Mason homeschool world. It is an old, big book full of information, stories, lessons, and black and white photos of plants, animals, and so much more! While I find this book to be rather cumbersome when trying to look up something you've seen on your nature walks, it is a good resource for when you get home, and would be fun just to go through as a family.
One of my favorite books in our Nature Bag is Tracks, Scats, and Signs!

We've had this book for years, and it is chock full of illustrations and information that are truly useful to your nature study.  In fact, all of the Take-Along Guides are fantastic and well worth the investment for your Nature Study Bag! Here are a couple to get you started:
I have another book in the Nature Bag that is more for me than the kids – The Forager's Harvest.


I bought this book several years ago on the advice of another blogger, and I'm glad I did!
It is full color (a MUST for a wild edibles book, in my opinion), and it tells you all the things you can do with the plant as well as what plants might be "masquerading" as the same edible, but that are actually toxic.
By the way, my best practices when it comes to wild edibles is to find a local who knows their stuff.  Locals who forage know which plants are safe to eat and which are not, so you are safer with them than trying to figure it out on your own.  Just like I know which sandhill plums to pick and make into jelly and which ones to leave alone because I grew up in a region where these berries were plentiful!
One last thing in my Nature Bag is a copy of Captivating Clouds from A Journey Westward's NaturExplorers. (I also have a few "cloud binoculars" made from paper towel rolls and tape to observe our clouds.) These are great little study guides that don't stress this mama out! You can see more here: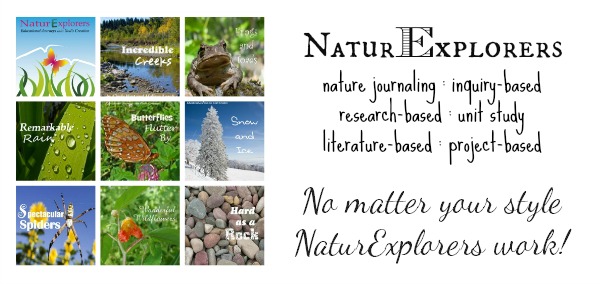 That rounds out what's in my bag, but there are tons of other things you could put in yours, so let me throw out a few more ideas!
-Are you part of a Nature Study group? Put all of your weekly meeting supplies in the bag!
-Do you like to journal? Put your journals, pencils, colored pencils, or even watercolors in the bag!
-Grab a small clipboard and paper to keep in your bag so you can jot notes!
-Put a kids butterfly net in!
-Put in birdseed to feed the birds!
-Put in a sheet of star stickers for marking your field guides the way Cindy West talks about in this Facebook Live!
-Put in some bug spray or essential oils to ward off bites and stings!
-Add an outdoor First Aid kit (just in case)!
Think outside the bag!
And what about that bag?
Well, I got mine from Aldi a couple of months ago as one of their Special Buys; however any bag or basket will do. I'd just encourage you to get one with handles to make it easy to grab and go!
And that's it! Easy Peasy Nature Bag! Set it by the back door, the front door, the garage door, in the van, or wherever you are most likely to encounter nature! Hmmm…maybe I ought to move mine to the boys' room?