Great ideas for putting together matching outfits for your large family.
Back when I "only" had 4 children, I started putting my kids in matching shirts whenever we went out to a public place where I needed to keep a close eye on their whereabouts (You can see my post from 2008 with all of them in matching shirts – blast from the past!). While this is a common Large Family Hack, I wanted to share a few tips with you about how I did it, what I learned from doing it, and some fresh ideas for making it work for your family!
How I made matching outfits work for our family
When I first started using matching shirts, I had 2 boys and 2 girls. I purchased simple colored t-shirts, but I did run into trouble finding the same color in all the sizes I needed. That's one reason (among many), that I suggest Primary.com to people: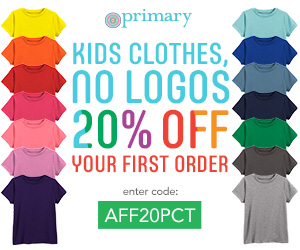 OK, I have to digress for one moment – I LOVE PRIMARY.COM! I just bought Mercy 3 little dresses from there – they are fantastic! Where else can you get soft, tagless, quality clothing in nearly every color of the rainbow with NO writing or cartoon characters on them?! Oh, and Mercy's sweet little dresses have attached onesies, so when she chews on her dress, her tummy and diaper stay hidden…as she so sweetly demonstrates in this photo:
The nice thing about Primary.com is that you don't have to match everyone's shirts. You can put the girls in cardigans and the boys in sweatshirts or polos! This gives you more flexibility. Well worth the investment!
I did find that certain colors were easier to spot than others. That's one reason I do not recommend blue as a matching color. It's just too hard to spot a wandering 4 year old dressed in a blue shirt among a sea of denim. You need colors that really pop! So, orange was most often my color of choice. I did do red and green from time to time, but all the kids seemed to prefer the orange as well. (I recently saw a family dressed in tie-dye that definitely stood out – so there's an idea too!)
What I learned from putting my kids in matching outfits
Choose the right color – Large families like to color code their children, but I've NOT found it to be a good idea to let everyone wear "their color" because it's too much for mom to keep track of in a crowded room. It's also not a good idea to choose prints or plaids. That works great for family photos, but terrible in a crowd. Consider what colors your eye will most likely go to in a crowd.
Buy short sleeved and long sleeved versions – For a long time I only had short sleeved matching outfits. Well, as soon as it gets chilly and you put jackets on the kiddos, you totally defeat the purpose of matching shirts! There does come a point where outside expeditions require coats, but then you might consider my next point…
Buy matching stocking caps – When the weather turns cold, consider doing matching stocking caps to keep track of everyone in their coats.
Kids really like to feel like a family – Wearing matching colors gives our kids a Team Roberts feeling. We are all on the same team and it is fun!
It's a good idea for mom and dad to wear matching colors as well – If a child gets lost in a crowd, it helps if they can say, "Mommy and Daddy are wearing the same color." I have to admit, I'm not one who likes to match, but I'll take one for the team. 😉
Ideas to make matching outfits work for your family
Make accommodations as your children get older – Some children start to balk at the matchy-matchy stuff when they get a little older (13-ish). I have done a couple of different things to handle this "transition."
Allowed the older child to choose his or her own clothes. Result –> They almost always chose to wear something within the same color scheme.
Allowed the child to "accessorize." Result –> They felt like the outfit was "them," and didn't feel bothered at all that they were wearing a matching color.
So, the way to "accessorize" could include jewelry, hair things, a bolero jacket, or jeans or skirt that they really like. I've also allowed them to break away from the plain t-shirts, and choose something from their wardrobe that matches, but might have words on it or a pattern.
Don't do it all the time – It can be fun and cute to match, but eventually, it will lose it's luster and the kids may get tired of wearing the same shirts every time you go out. We only match when in a large crowd. I don't do it in the grocery store or church (although, we do similar polo shirts for the boys and the little girls often match for church). A lot of this is my own personal preference because the kids have such cute clothes, I don't want them to ONLY wear the matching items when going out. I like a lot of color, and I like to see diversity on my children. So, if you don't think you will grow tired of it, then by all means – do it every day of the week!
I want to remind you one last time about Primary.com because this is one of the best ways to snag matching clothes in tons of different colors!
More Large Family Hacks!