When you live in the city, there often isn't a lot of room to roam.  Certainly, there are parks and nature trails in most American cities, but if you are like me, you aren't always up for that sort of "adventure."  Yet, I still want my kiddos to have nature adventures.  Today, I want to share with you some nature study ideas for small spaces.
Put Together a Nature Bag
The first thing I would encourage you to do is be prepared for adventure by assembling a Nature Bag.  This bag will store everything you need to be at-the-ready for enjoying nature right where you are.
My kids use our Nature Bag all the time!  I also have a waterproof blanket near the bag, so they can spread it on the ground and observe nature from there – particularly handy if it has rained recently!
Square Foot Nature Adventure
We were first introduced to this concept in Cub Scouts, but a reader also told me about these One Small Square books:


The photo above is of my kids looking in their 1 square foot for all the nature they could find there.  They used magnifying glasses and jeweler's loupes to get a closer look.  They were so excited to tell me all they were finding!  My 8 year old even borrowed my phone and took photos through the jeweler's loupe!
Bring Nature Indoors!
When you live in a small space, being able to keep some nature indoors is a perfect way to study it!  If you have a pet, you have nature right there!  Let your children learn everything they can about the pet they have with books on the subject or by helping them research on the internet.
If you don't have a traditional pet, try keeping an ant farm or buy a bug den and study bugs inside for a bit before taking them back outside.
Put together a Nature Table like the one is THIS POST.  Even houseplants are a great way to study nature indoors!  And remember, to keep plenty of field guides and other nature books on hand!  We really like these Take-Along Guides:




(There are lots of these books, so choose the ones that make the most sense for the area you live in.)
Join a Nature Study Group
Sometimes you need a little accountability to get started with nature studies, so why not join a local group!  Our homeschool group has a nature walk group that meets every Friday morning.  Some libraries have birdwatching or nature hike groups.  Also, check with your county extension office or recreation commission to see what they might have to offer!
Go online!
Living in the information age has great advantages when it comes to being exposed to ecosystems and animals you would never otherwise see.  We don't live near a beach, but we can watch the Underwater Cam!  We don't live near an African savannah, but we can watch the African Wildlife Cam!
Just about anything you could possible want to see nature-related can be found on places like YouTube or Explore.org.  You can also stream science shows like the classic Moody Science videos with services like RightNow Media (if your church has a subscription) and Amazon Prime.
Don't be discouraged!
It's easy to be discouraged by your small space when it comes to nature studies for your homeschool.  It can make you feel like you aren't doing enough or you should move or your children won't be as well-rounded as you would like, but please don't allow yourself to go there.  Every child's education has "gaps" and those gaps are rarely detrimental to their overall academic success if you teach your child to love learning.  Teach them to be resourceful.  Teach them to research.  Teach them to do well with what they have.  Don't allow yourself to be discontent because once you go there, you become discouraged and your homeschool suffers.
–> And here's a Nature Study COUPON just for you!
15% off EVERYTHING in the Our Journey Westward Shop!
CODE:  RaisingArrows

(code expires November 15, 2017)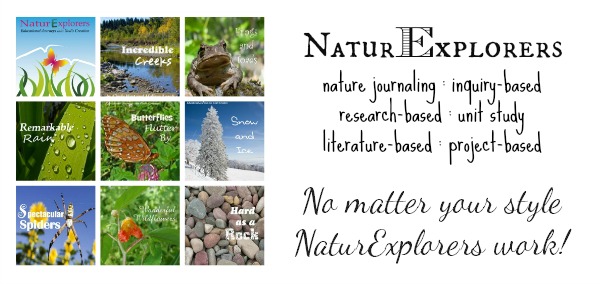 These NaturExplorers ebooks are perfect for small spaces!
By the way…
If you are intimidated by the Charlotte Mason Method, you have to check out Charlotte Mason Homeschooling in 18 Easy Lessons!  The 15% off applies to this book as well!