Fit in extra homeschool subjects with a special school time in the afternoon! Here are simple ideas to make your Tea Time School special!
Homeschool moms often have grand aspirations of fitting in all sorts of fun homeschooling extras like fine arts, vocabulary, geography, art and music study, poetry, and the list goes on and on. And then about 2 days into our over-zealous homeschool schedule, we find we've run out of steam…and time.
Yet, the desire remains to add in these subjects, so the next year we try again…with the same results.
Many years ago, I had a habit of asking all of my homeschooling friends about their homeschool schedules so I could figure out how they were fitting everything in. While I have since learned that no one can fit EVERYTHING in, I did learn a few tricks for how to fit a FEW extra subjects in. It all started with something I called "Special School" or "Tea Time School."
The homeschooling friend I borrowed this idea from was choosing a topic for each day of the week. She and her sons would sit down to learn about and discuss that topic. These topics were not your typical school subjects, but rather the extras she wanted to fit in to her day.
I decided to take this idea and adapt it to our schedule and needs. It worked best for me to fit it into our afternoon. So, around 3:00 pm every day, we would sit down at the dining room table for our Tea Time School.
Our schedule was as follows:
Monday – Hymn or Composer Study
Tuesday – Tea & Poetry
Thursday – Art & Artists
You'll notice there was no Tea Time School on Wednesdays due to Piano Lessons, and there was no Tea Time School on Fridays since we do not school on Fridays.
---
Note: This post was originally written in 2013. In the past couple of years, Tea Time School has become Morning Time.
READ > Morning Time with Multiple Ages
---
Here's a breakdown of each day of our Special School and how I found the material for our studies:
Monday – Hymn or Composer Study
If you're like me, you are excited to try doing a composer and hymn study, but you aren't real sure HOW to do it. Where do you get the material for the study, and how do you keep it engaging for your kids?
The search for ideas is actually one of my favorite parts of homeschooling! Here's how you do it…
Let's say you decide to study the hymn Blessed Assurance and the composer of that hymn, Fanny Crosby.
You can simply Google the name of the hymn you want to study with the words "hymn study" after it…
Or you can work through a free lesson like the one I found on Contented at Home. You can also find this hymn and others in this wonderful set of hymn studies from Not Consumed! (I highly recommend these!)
You might choose to read a short biography of Fanny Crosby online, or take it a step further by grabbing a book or DVD or album of songs from the particular hymn writer you want to study.
Here are a few examples:
I highly recommend the Gutsy Girls series! Very well done!
The above album is currently streaming for free with Amazon Prime.
After reading a bio on the composer, you can sing the hymn and then listen to an instrumental version of the hymn while your children notebook some of the things that stood out to them about Fanny Crosby and the hymn Blessed Assurance.
For tons of Hymn Study and Composer Study Notebooking pages, check out Productive Homeschooling's Lifetime Membership! There are so many options!
And that's it! You don't want it to be long and stressful – 30 minutes max. And don't forget the snacks!
Tuesday – Poetry
Every Tuesday during Tea Time School, we would read poetry or try our hand at creating our own poems!
Choose poetry books recommended in various homeschool curricula like:
Read a poem or two and talk about it. Copy a stanza from the poem, look up words you don't know, and color pictures that go along with the theme of the poem.
You could also use a more in-depth program like Grammar of Poetry (buy it from IEW or from Compass Classroom):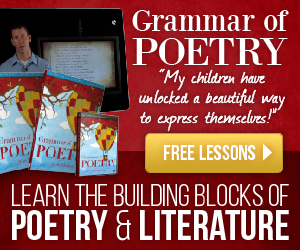 The great thing about only doing Poetry once a week is the fact that you won't overwhelm your reluctant learners, and by adding in tea and cookies, you make poetry something memorable and tasty!
Thursday – Art & Artists
I noticed that as I added more students to our homeschool, the less art we managed to fit in. OK, so truth be told, we weren't fitting in ANY art. It seemed too difficult to implement. I needed to make it a regular part of our homeschool week, so that's how Thursdays became Art & Artist Study day!
During our Special School Time back in 2013, I used See the Light Art for our Art & Artist Studies along with anything I managed to find on Pinterest (check out my Teaching Art & Music Pinterest board!).
I currently use You ARE an Artist chalk art lessons because they mesh well with our history studies and the chalk lessons are easy to follow for ALL ages!
Learn more about them here:
Tips for Tea Time School
1 – DON'T STRESS. The words "tea time" can quickly stress a large family mom out because the first thing that comes to mind is tea spilled all over the place. Think of the "tea" in Tea Time School as "extra." If your kids don't like hot tea, make it cold. Don't like tea at all? Serve something else. Don't have teacups? It's ok. The idea is to sit down together, enjoy a snack together, and study together. The details are not nearly as important as the concept!
2 – CHOOSE A TIME THAT WORKS – This may take a bit of tweaking, but try to choose a time in your day when there aren't a bunch of distractions. For instance, baby's nap time might be a good time to fit in Tea Time School.
3 – CONSIDER WHAT IT WILL TAKE FOR YOU TO STAY CONSISTENT – Consistency is key when it comes to Tea Time School. Do you need baby to be asleep? Do you need the house clean first? Do you need it to be earlier in the day or later in the day? Do you need it to only be 1 or 2 days or do you need it to be every day so you will remember? Consider all the factors you need in place for the best chance at making Tea Time School consistent.
4 – CHOOSE SUBJECTS & TOPICS THAT INTEREST YOU – Start with topics that interest you so you'll be more engaged and passionate about the material you are studying. As you get more familiar with doing Tea Time School, add in subjects your kids are interested in or topics you'd like to add into their homeschool education.
Examples: Geography, Missions, Science Experiments, Nature Studies, Poetry, Art, Music Studies
5 – ROTATE SUBJECTS – This is often called "Loop Scheduling" and gives you the time and space to do several extra subjects during your school year that you may not otherwise get around too. These subjects do not require you to do them every day in order for the information to be retained by your children. So, "loop" the subjects you have chosen on the days you have chosen at the time you have chosen, add in a few snacks and drinks, and you have Special School or Tea Time School or whatever kind of extra school you'd like to call it! Yay you!
And by the way…
If you miss a day, it's ok. Pick it back up next week. Remember, this isn't something to stress about. This is supposed to be SPECIAL, not drudgery! It's the icing on your homeschool cake, so ENJOY IT!
Originally published August 2013. Updated March 2020.