Big changes in our household as our oldest daughter leaves for college and we rework schedules and plans!
Read all of the Large Family Homeschool Life posts HERE.
MONDAY
It's been busy around here which is why I took last week off. Between my nephew's wedding, our 8 year old's birthday, a snowstorm, and packing up for our oldest daughter to head to university, I barely had time to think, let alone write!
Early Monday morning, Ty, Megan, Aspen, and I headed out to take Megan to her new college. Aspen was born on Megan's birthday, and the two are inseparable, so it made sense to take her so she could have more time to say goodbye. Plus, she's a good little traveler, which makes it easy to take her along.
When we got to the university, Megan checked in and got her dorm assignment – 3rd floor, but close to her classes! We hauled everything up, arranged a few things since she does not have a roommate this semester, and then left so she could go to orientation.
While she was busy, the rest of us went to Walmart to buy extra things for her dorm. She needed things like a filter pitcher, command hooks, towels, and snacks. It was kind of fun shopping for her and her new place!
We weren't allowed back in the dorms because of COVID protocols, so we dropped the bags off at her main door and she got her exercise with 3 trips up the stairs to get all the bags into her room!
We ended up getting a hotel down the road, so we could take care of some business at the college the next day. Aspen had a queen bed all to herself and took a HUGE bath and wore a shower cap – she had the time of her life!
That night, while we ate Sonic and slept in the hotel, Meg ate in the dining hall and slept in her dorm room – kind of strange.
TUESDAY
We grabbed breakfast in the hotel. It's the first time I've seen a normal hotel breakfast since COVID lockdowns began! It was actually quite nice, but the hotel was terribly empty. I feel bad for the businesses that haven't fared well through all of this.
We packed up and checked out and headed to pick up Megan to meet with financial aid. Thankfully, the overall cost of tuition was much less than we had expected! We told Megan we would split the cost with her. Megan saved up plenty with her coffee shop job this past year and the school "found" more scholarship money for her.
That's a little trick our son taught us (he works for a private university). The institution has money tucked away to woo students – particularly those with good grades or other desirable attributes. Megan is a 4.0 transfer student, and we weren't shy about letting them know we were looking at other schools as well.
READ >> Preparing Your Homeschooled Child for College
LISTEN >> Preparing Your Homeschooled Child for College Podcast
We took photos with Megan outside her dorm, and said our goodbyes. Daddy cried a bit. It's his little girl, and this transition has been difficult for him.
Lest you think I'm heartless for not crying, let me explain a bit…
I'm not a super gushy mom. I get nostalgic about my babies growing up, and I often long to do their little years over again, but I'm also quite excited for them to do new things! A friend of mine thinks part of the reason I don't mourn our children leaving the nest is because I still have so many at home to keep me company. Perhaps so.
Speaking of the other children – we headed home to spend the evening with them and share all our "Megan at College" stories. She also FaceTimed the kids later that evening.
WEDNESDAY
Back to school for all of us! Megan's first day of classes at her new university, Blake's first day of students back at the university he works at, and all my little learners here at home are back at our dining room table.
As we got started, I found out they had all done school while we were away at the insistence our 16 year old who was in charge. She's a great kid sitter! I had already told her I was going to pay her for watching the kids for me, so she proved she was well worth her "salt!" (Go here to see what "well worth your salt" means!)
Morning Time was Bible reading in Matthew, The Story of the Romans, Visual Latin class, and at the suggestion of a reader, I am reading Jonathan Roger's Bark of the Bog Owl aloud to the kids.
Keian (14) made pimento and cheese spread for lunch, and I added a Caesar salad and grapes to round it out. I also made some apple & gouda sausages for Ty and I.
After lunch, I went upstairs to answer some emails and messages while the kids played outside. Readers have had a lot of questions about the American Sign Language Interpreter degree Megan is getting. Thankfully, I have a post with the resources we used to get her prepared and I could simply point everyone there.
READ >> American Sign Language Classes for Homeschoolers
Speaking of the kids being outside…
We're not getting quite as many hours outside for our #1000hoursoutside challenge as I would like, but I'm still pleased with how well we are doing. Honestly, *I* need to get outside more! Seems like I often end up using the time they are outside to work on things inside and uninterrupted.
I did manage to order a new Bible curriculum while the kids were outside. It's from Grapevine Studies – the company that uses stick figure drawing to teach the Bible. As a large family mom, I have to really think outside the box when it comes to curriculum so that we can do subjects like Bible together around the table.
I ended up getting in touch with Dianna from Grapevine and asking my questions about making it work for a large family, and she had some great ideas and totally understood where I was coming from. That sold me right there! When curriculum companies understand and accommodate my personal vision for our homeschool, they get my loyalty!
I will be doing a review of the curriculum once we've used it in our homeschool for a while, but I'll go ahead and share with you that we are doing The New Testament. That's where we are in school, and I thought it would be nice to start there.
I also chose the middle school level because I like to "teach down." So, I almost always choose a higher level and then supplement as needed for the younger ones. One supplement Grapevine has that I'll be using with my little kids are the traceable pages. That way everyone can do the same lesson at their own ability. (Although, let's face it, stick figures aren't that hard to draw!)
The boys came in scratched up from playing in the woods, so I doctored their wounds with some healing calendula salve a friend made for me. It does my heart good to see them playing so hard! Boys needs that.
Later in the day, Ty came home so I could take our new driver out to work on her driving hours. Our state requires 50 hours total driving time (40 day, 10 night) before kids can get a license. That is, unless you take driver's ed or take classes at the local driving school – neither of which would I recommend. We sent one of our daughter's to driving school. They had 6 total hours of driving – none at night. She was NOT a good driver after that, and we were not comfortable letting her loose behind the wheel. So, we continued practicing with her despite the fact that she had a legal license. And driver's ed is much the same. It's just too short – especially considering those of us doing it on our own are required to have 50 hours!
Dinner that night was venison steak fingers the way my mom would make them when I was a kid. We also had peas, sprouted bread and butter, and graham cracker & frosting sandwiches. When I was a kid, my cousin Mindy would bring these graham cracker treats to school for lunch. We had frosting left over from our son's birthday cake, so I was excited to be able to share the "recipe" with my kids!
By the way, this was Inauguration Day, but I rarely watch Inaugurations. Instead, I watched the videos below. Seemed fitting…
THURSDAY
This morning, I made a no-sugar, no-flour apple waffle for myself. As I mentioned in my last Large Family Homeschool Life post, I am following Bright Line Eating (for the most part), and I'm quite happy with the results of lower cholesterol and several pounds lost. I am shocked at how easily I have adjusted to not having sugar or even fake sugar.
Because I had the waffle iron out already, I let the 16 year old make waffles for the other kids. We rarely have waffles for breakfast around here, so it was a nice treat for them.
After Table Chores, I called everyone to the living room for Morning Time. There was no reason for us to be at the table for Morning Time today, and the kids prefer the living room, so we met there.
READ >> Making Morning Time Easy
We read 2 chapters in Matthew, did Visual Latin (I used my Mac to screen mirror to our Apple TV), read in The Story of the Romans, and another chapter in Bark of the Bog Owl. Then, I sent everyone off to their individual work.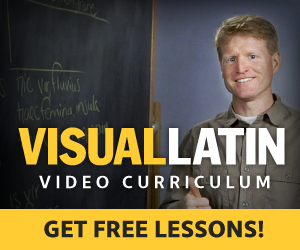 Melia (16) has been struggling a bit with the end of her Algebra lessons. We switched her from Teaching Textbooks to Khan Academy to try to get her over the hump, and that worked well until now. She's on quadratic equations, and while she gets the gist of it, the deeper she gets in to them, the less she is able to make everything work. She was in tears over how frustrating the lessons had become.
Ty and I looked over the problems she was doing, and the work she had previously done, and decided she understood enough about quadratic equations to move on to the next section of lessons.
This isn't something we often do, and we aren't big fans of kids "quitting," but in this case, we know what she knows, and we are well aware that she will not being doing quadratic equations in her adult life. She understands the concept, and she has plugged away for quite some time. It's time to move on.
READ >> Does My Child Have to Do All of the Problems in the Book?
I did some weather-related projects with the 2 little girls. They made "rain" in a jar and wind detectors. It was super cute to see them standing out on the deck so excited about catching the wind!
In the afternoon, I started dough for bierocks tonight. (DOUGH RECIPE) I had red cabbage in the refrigerator that needed to be used up. I don't usually make bierocks with red cabbage, but you use what you have!
It was in the upper 50's today, so I took the kids out front to ride their Green Machines and for the girls to finally try out their Dune Buggy from Christmas! Aspen had so much fun, but Mercy wouldn't even get into the motorized dune buggy. She said, "I'll just watch." She ended up jumping on my exercise trampoline instead – which pretty much only gets used when the little girls jump on it!
Some of the boys ended up going back out to the woods until dinner time, and the rest of the kids did chalk art to pass the time. Micah (12), in particular, enjoys chalk. He's been inspired by lessons from You ARE an Artist. This was his creation today:
For dinner, we had bierocks, corn, and salad. The kids did Table Chores, and then watched Backyardigans until it was time for Bedtime Chores.
READ >> Creating a Simple Evening Routine for Children
FRIDAY
No homeschool on Friday because we homeschool 4 days a week.
On Fridays, we clean the entire house. This has been our typical schedule for 9 years now. It wasn't possible until my oldest turned 14. Prior to that, we cleaned certain things on certain days of the week.
Below are the podcasts in which I explain the different methods we have used over the years to keep the house "clean enough."
This was Creed's week to take off from chores for his birthday, so I assigned his chores (cleaning the laundry room and brushing the dog) to his little sister (age 6). I had to help her, but she did a good job.
I also had to assign Megan's one chore (vacuuming the basement) to another child, but I'm not satisfied with how that worked out, so I'll need to make a more permanent change next week.
At 1pm, I went to lunch with a friend. She's at the tail end of her homeschooling career and we both just sent kids back to college, so we talked about these life changes and much more.
We also talked books. I have not been reading as much as I once did, which is troubling considering my degree in English and at one point in time I couldn't imagine my life without a book in had. She has been encouraging me to get back to it and make time for reading good books.
Speaking of that, I watched a session by Elsie Calendar of Tea & Ink Society from the 2021 Homemaking Conference on this very topic. I needed the motivation to realize my time was being misused, and I really DO have the time to read more.
Honestly, there have been a lot of factors leading up to this decision to read more, and I feel like God has been nudging me with "friendly reminders" for quite some time. Too much internet, streaming services, and news apps have been crowding my life, and not enough books and tea and in-person conversations. Much of the beauty I have lost in my life has been my own doing, and it's time to step away from all the noise and read a book instead. I think it will help to calm my brain.
READ >> A Mom Who Never Burns Out: The Secret of Mother Culture
After my friend and I had lunch, we did a bit of shopping. I ended up buying a purple sweater that was on sale and an aqua bracelet. Those 2 colors have become my signature colors, if you will. Such beautiful, rich colors that make me oh-so happy!
The store where I purchased these things also helped me transform a pair of ammonite earrings my husband bought me for Christmas into necklace charms that will fit on the necklaces they sell there (I happen to have a few!).
Ammonites are extinct marine molluscs. The spiral of their shells is absolutely gorgeous, but they were just too heavy for my ears. They work much better on my necklace!
After I got home, I recorded a podcast, made dinner, and ended the evening by reading to the kids from Stillmeadow Calendar: A Countrywoman's Journal, a book I had begun for myself, but ended up wanting to share with them because it was just so lovely.
Read all of the Large Family Homeschool Life posts HERE.